The Striso board is an expressive MIDI controller which combines multidimensionally sensitive buttons with an innovative new note layout. The buttons capture each subtle finger movement, which allows for levels of musical expression previously only known to acoustic instruments.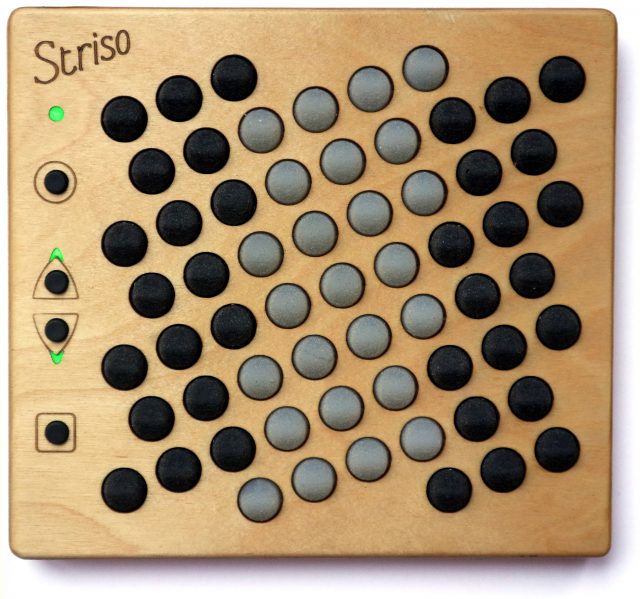 The innovative new note layout makes the player feel more connected to the music. While the piano layout has been the most popular layout for a long time, its uneven pitch distances make it difficult to comprehend musical patterns. Putting the notes in the same key close to each other and making every musical interval always the same shape gives a better understanding of the music, makes it fun to explore chords and melodies and makes it easier to improvise.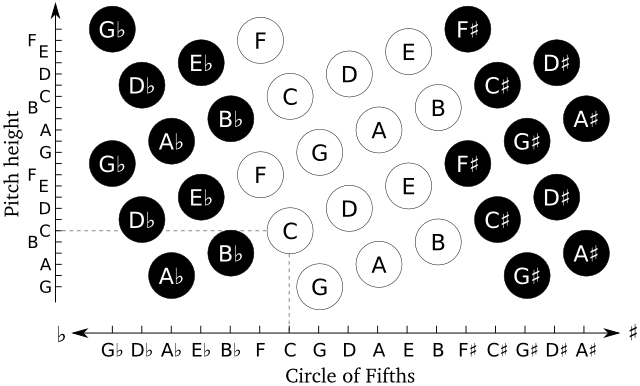 The buttons each sense the finger pressure, left-right and back-forth movement in very high resolution. An integrated motion sensor senses the instrument movement and rotation, giving additional possibilities for musical expression. Combined with an MPE enabled synthesizer this opens up enormous amounts of possibilities for sound control and musical performance.
Specifications
61 soft silicone pressure and direction sensitive note buttons (3.7 octaves)

Scanning rate: 1200Hz
Touch sensitivity range: 70g – 700g

4 extra buttons for glissando, octave switching and settings
Motion sensing: 3D rotation and acceleration, sent over MIDI at 100Hz
Polyphony: 15 notes with MPE
Tuning: uses polyphonic pitch bends and hence works with any MPE synth
Dimensions: 192x174x26mm, 425g
Power: USB, 5V 100mA
Connection: MIDI over USB, with 3 MIDI modes:

MPE, one note per channel
normal, with pitch bend, modulation and polyphonic aftertouch
monophonic, with glissando

Firmware: Open Source firmware
Recommended sounds
As the Striso board doesn't have an internal synthesizer it needs an external synthesizer to produce any sound. The Striso board works with any MIDI synthesizer when using the polyphonic MIDI mode. An MPE synthesizer is advised for full polyphonic control. Best chances for a good out of the box experience are sounds that are optimized for MPE controllers. More background information and an extensive list of MPE synthesizers compiled by Roger Linn can be found on http://www.rogerlinndesign.com/ls-recommended-sounds.html
I can recommend the Axoloti, a standalone hardware synthesizer that can be programmed using a visual interface. For an optimal out-of-the-box playing experience I offer an Axoloti as a package with the Striso board, in a matching wooden case and preloaded with some Striso optimized sounds.
Another easy start if you have an iPad or iPhone is to connect the Striso board using a lightning to USB (Camera) adapter, and use the free Noise or Seaboard 5D app from ROLI.